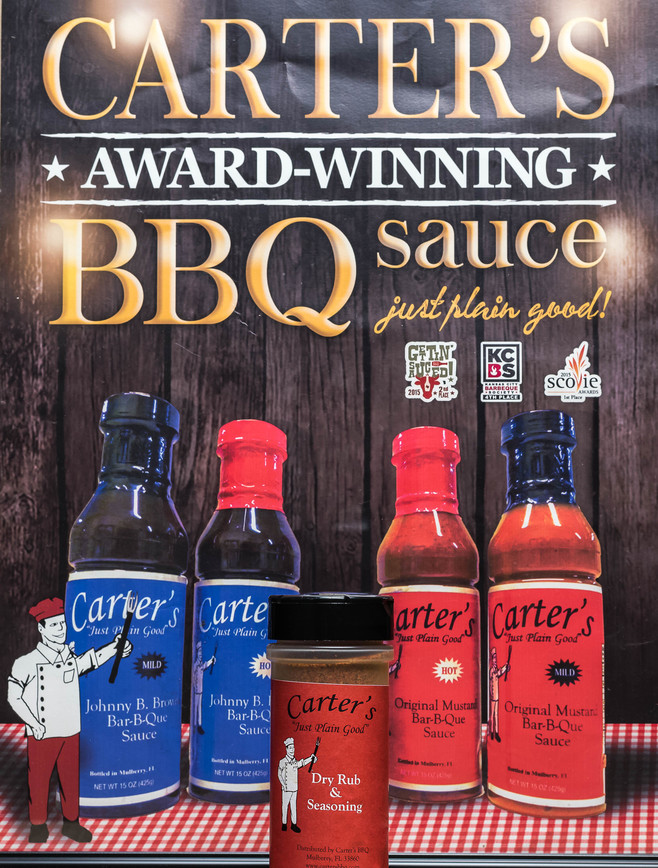 It all began in 1999 when Johnny Carter Jr.
It all began in 1999 in Lakeland, Florida in a concession trailer selling ribs and chicken to anybody that wanted some good smoked, tender, tasty barbeque smothered in a mustard base barbeque sauce. Carter's Barbeque is a family owned restaurant in Mulberry, Florida. It was Carter's paternal grandmother, who first found commercial success with a sauce that had been handed down through generations of her relatives… It was customer demand that prompted Carter's to make our great food and our signature barbecue sauces available for everyone wanting a great BBQ experience. Our signature BBQ sauce has also won several national awards ,including first place in the 2015 Scovie awards; second place in the 2015 Texas Man Up competition, and fourth-place prize in 2015 Kansas City Barbecue Society competition. Now you can enjoy our award winning BBQ with the GREAT teats of southern BBQ…Thanks
"Carter's BBQ"
"Just Plain Good"
The problem most soul food restaurants face, Johnny Carter Jr. says is that they try to serve a huge variety of food all the time. By offering a menu of every exotic dish – from oxtails to neck bones – they often waste money by having to throw out what customers don't order.
Carter knows about supply chains. For more than 25 years, he worked as a logistics manager for FedEx, UPS and Office Depot.
So when he started Carter's Bar-B-Q take-out nine years ago in a trailer on South Florida Avenue in Lakeland, he stuck to two things: ribs and chicken. Once the business became a success, he moved into a red, concrete-block house along State Road 60 in Mulberry and turned the carport into a drive-through.
The menu has grown since those early days to include soul food staples such as fried okra, oxtail, lima beans, collard greens and sweet potato pie. But he stays close to the rib foundation. If you want them, he serves rib tips, a rib slab, a thin-end rib, large ribs, small ribs, and ribs and chicken.
The key, he says, is freshness and consistency.
"My customers know that if they want oxtail, you don't come on Tuesday because we don't get a delivery then," Carter says. "You come on Thursday when it's fresh. We only serve it fresh."
His signature yellow barbecue sauce, a family recipe from his days growing up in Albany, Ga., also lures hungry diners. It's so popular that he sells it in bottles.
"We've shipped it everywhere," he says. "We have people from Japan who call and ask us to send them some."
Try one of our award winning sauce's!
For many years Carter's BBQ has been known for it's famous mustard base
Bar-B-Que sauce. This sauce is a favorite of many, plus celebrities as well as
many local communities. When new people ask: 'how does it taste' ??…
the response is always… "Just Plain Good"!!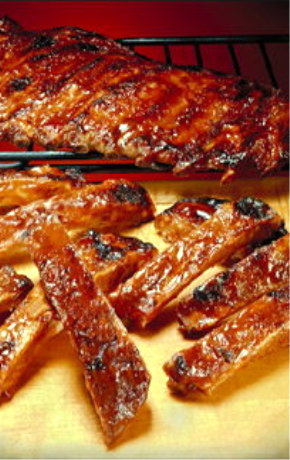 Good old fashioned ribs
Good old fashioned ribs,pulled pork,beef,chicken and smoked turkey served family style.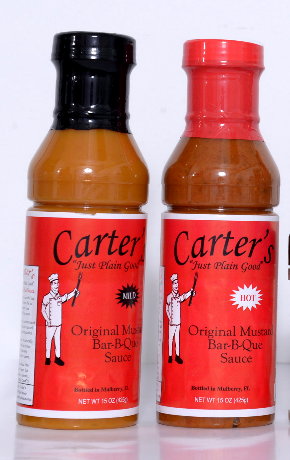 Our sauces
Try our sauce today in Mustard or Brown BBQ styles in 'Hot' or 'Mild' flavors.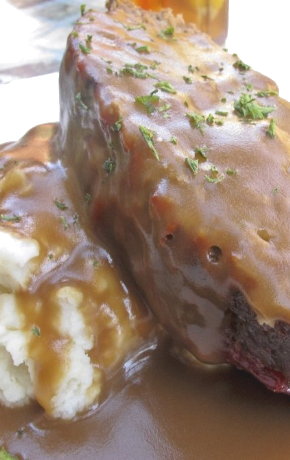 Homemade side dishes
plus, carter's delicious homemade side dishes that are all made from scratch
Have a Question or Comment?
Please leave us your contact information with any questions or comments, and someone will get back to you.
Order Online
Contact Us